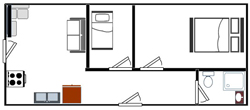 Pet Friendly: Inquire by phone.
Bedrooms: 2
Bathrooms: 1
Sleeps: 4-6

Amenities:
• 1 Full-Size Bed
• 1 Set of Bunk Beds (two twin beds)
• 1 Full-Size Sleeper Sofa
• Hot Tub
• All Linens Provided (Except Blankets)
• Charcoal Grill
• Easy Access to Trails
• Microwave
• Full Stove
• Coffee Maker
• LCD TV/DVD/Satellite TV
• Full Bathroom/Shower
• Air Conditioned & Heated
• Full Fridge
• Picnic Table

Description: If you're looking for Gatlinburg in Harlan County – you've found it. Whether, it's just a couple of folks, a family, or a group of guys – you'll have all you need for your getaway. The cabin is set up to accommodate up to six people (if two are sharing the sleeper sofa) and is located within ten minutes of the towns of Cumberland or Harlan. Amenities include a full bathroom/shower, barbecue grill, as well as a full kitchen for your cooking needs. It's also located directly on the trailhead of the Black Mountain Off-road Adventure Area and has direct trail access.
Rates: $175 per night for up to 6 people
$20 for each additional person
See below for cabin rental availability.